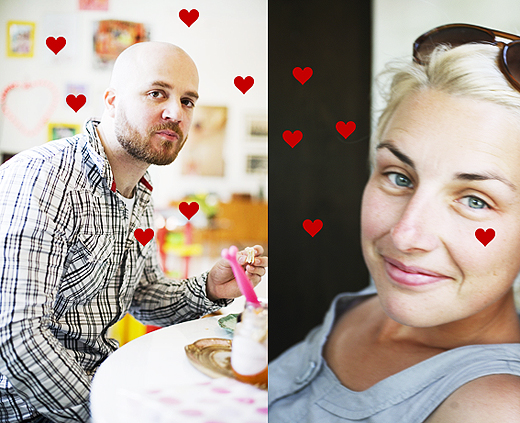 There is always music on in our house. Always. And with today being Valentine´s Day I want o play you our favorite love songs, every single one of these makes me think of you Jens.
Click here to listen to DOSFAMILYLOVE on Spotify
PS: No, that is not Jens and another girl.(That would be weird) That is me when I was blonde.
Hold Me – Fleetwood Mac  If I´m having a bad day I ask Jens to play me something. This song is one of my best "pick me up" songs.
The Light Is On – Christopher Cross.
Rideaux Lunaires – Chilly Gonzales
Thirteen – Obadiah Parker This is a classic in our house. Usually with Big Star, but I like this version as well..
Peg – Steely Dan. By far the most played artist in our house is Donald Fagen and his Steely Dan. LOVE these guys.
No looking Back  – Michael Mcdonald – What can I say. My knees get week from his soft voice.
Cloudbusting – Kate Bush
Sure Know Something –  Kiss
Pull Up To The Bumper – Grace Jones This reminds me of when Jens and I were expecting Viola , we played a lot of video games back then and this track was featured in GTA Vice City. Great game, great song and one outrageous women!)
Hey Nineteen – Steely Dan
River – Joni Mitchell 
This Must Be The Place- Talking Heads
This Charming Man – The Smiths. When Jens and I first met this was our soundtrack. You could say The Smiths has built the foundation for our life together.
Afternoon Delight – Starland Vocal Band
It Covers The Hillside – Midlake.
Edge of Seventeen – Steve Nicks
Holy Diver – DIO. Can Holy Diver really be a part of a Valentines list?  Yes. a) This is a song with lots of passion, and passion is perfect for Valentine´s and b) It is Jens favorite song of all time. It takes him back to the 80´s when he was in his boy room listening to Heavy Metal trying to figure out how to attach a saw blade to his clothes. Like this
One – Aimee Mann 
1